Social Emotional Learning Resources
Rehearsal for Life's mission to strengthen young people's social and emotional skills for every stage in life through dialogue, creativity and performance is informed by the framework devised by the Collaborative for Academic, Social, and Emotional Learning (CASEL). CASEL defines 5 primary Social Emotional Learning competencies that support a student's overall Social and Emotional wellness:
Self-Awareness
Self-Management
Social Awareness
Relationship Skills
Responsible Decision Making
To learn more about the CASEL competencies and framework, visit casel.org.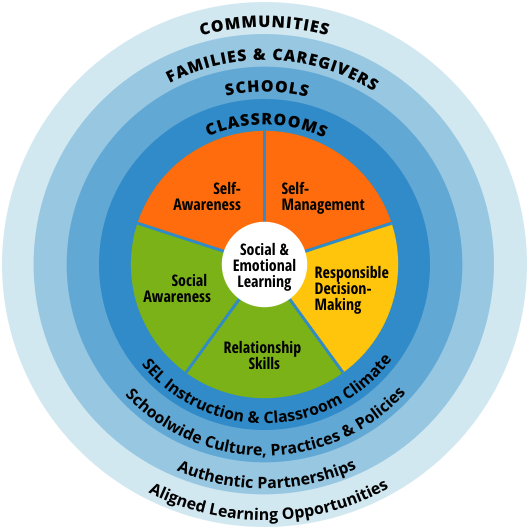 Why is Social Emotional Learning important? Learn more in these resources below:
Why Social-Emotional Learning Is Suddenly in the Spotlight
Benefits of Social-Emotional Programs Far Outweigh Their Costs, Study Finds
Rehearsal for Life in the Literature
The Body Keeps the Score: Brain, Mind & Body in the Healing of Trauma
Trauma Center at Justice Resource Institute Study (2006)
Video Resources
In the spring of 2020, the Urban Improv Ensemble created a set of video curriculum modules to support their partner teachers and students during distance learning due to the COVID-19 shutdown. Following the Urban Improv method, each video package features an original song and/or scene, along with prompt questions for educators to guide students into deeper thinking and discussion about the topic of the video.
Open the Door
(Appropriate for all ages)
Welcome to Urban Improv with our theme song! Our model uses music, theater and, most importantly, imagination to find creative solutions to real-life problems.
Runtime: 1m45s
SEL focus: self-awareness, self-management
Boys Club, Girls Club
(Best for elementary grade levels)
Featuring the song "Fly," this video takes you to the playground. When an argument breaks out, a student is asked to choose between "The Boys Club" and "The Girls Club."
Runtime: 4m15s
Topics: friendship, emotions and gender roles/norms
SEL focus: social awareness & social relations
I Probably Shouldn't
(Best for middle school grade levels)
What happens when our emotions get the better of us? Can you take something off the internet once it's posted? In this scene, a young person releases an embarrassing video of her friend after they have a falling out.
Runtime: 6m24s
Topics: social media use, friendship and cyberbullying
SEL focus: self awareness & social relations
Cast List
(Best for high school grade levels)
This video includes the song "Shake the World," followed by a scene in which characters discuss who can be cast in different roles for the school musical. The video helps viewers explore racial stereotypes and their impact.
Runtime: 8m58s
Topics: racism and stereotypes, interpersonal relationships
SEL focus: social awareness & social relations